Welcome to ACA
Each year we add different fabrics to the sign.
FOF13 Gang
​The group was small but delightful. Many pieces of art were created and laughter chased away the chill nights.
Wendy Smith Wood
​Wendy taught six days of silk techniques from batik to shibori and discharge. Here she is featured dancing with Amy Dove's scarf/mini skirt.
Bill McBride
Bill worked in the dyeing lab set up in the Sculpture Studio. He learned silk dyeing, silk screening, and positive printing. Bill usually works with bromeliads in DeLand, FL, and while here, he reproduced them in silk batiks.
Wendy Smith Wood
Taking the measure of dyes.
Walls large enough to do layouts.
First time for Rita
The Fearless Grls
​Midge Baudouin and Allison Stilwell taught us how to rage and laugh, screen print and add images on top of images. They showed us that poetry works in art and nothing is too bizarre when it comes to art.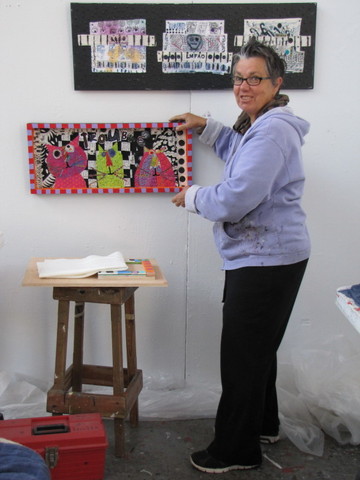 ​Midge Baudouin
Showing off some of their finished art.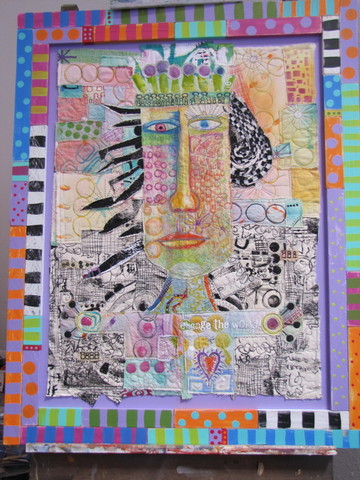 One of their artworks
Alison Stillwell doll
Fran Gardner
​Fran taught a class in Mark Leaving where the artist starts with a finger painting and refines the work with free range stitching by machine and drawing lines with many tools.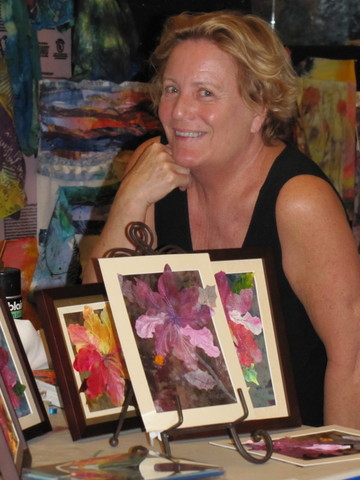 Patricia Anderson Turner
​Patty created enough flowers on sheers to keep her galleries happy.
Mary McBride
Fearless leader working on raw edge quilting and painting.
Finger Painting
McBride's work from Gardner's class.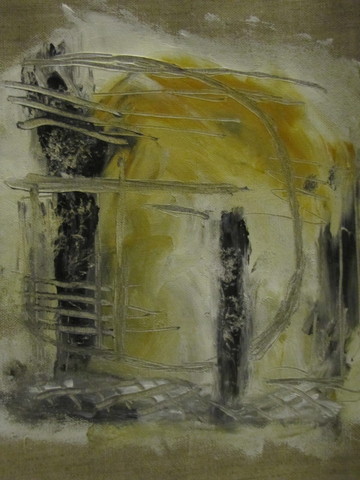 Transition
Mara Whitridge and Hoss
​Mara was our resident sculptor and Hoss, an ambassadorial dog, made sure we all behaved nicely.
The fabulous gang of FOF13
Happy with her new shibori scarf
Hand of Buddha
ow residing in the parking area near the housing units. Totems were left to be enjoyed by other artists.
Karen, poetry and kitchen phones
aren Kershaw (featured with Jeff) read a few of her word poems after dinner one evening. She played Kitchen Goddess for 5 days when our chef was unable to work. She knows how to dial a phone, pick up take out and open cans. She helped us out when we needed her so much. She also needed us as she went through several stages of grief. This was a reflection of the wonderful people who attend our retreats. The TLC outweighed the menus.
One space for many dreams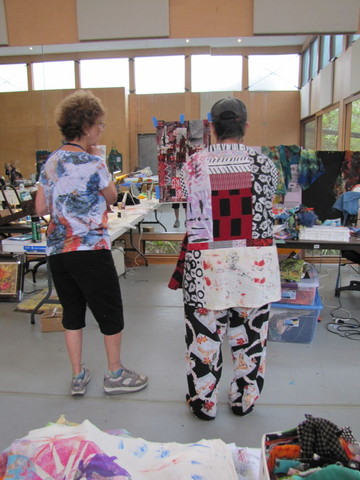 Clothing was varied and colorful.
Totems
​Kiss a frog and get splinters! Members made many banners to convert the woods into an art gallery of sorts.
Debbi shows here fused work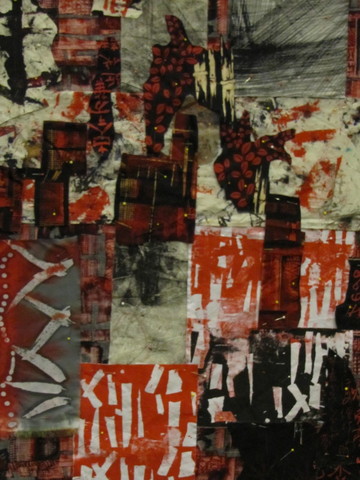 Linda Hoffmiester's start
Within the year, she was able to create a wonderful work that was selected to exhibition.
Critque
Gentle suggestions to help artists in their decisions.
Marianne Williamson
Making tapestry taller than she is.
Shelannia shows off her work
Lunch break in the sweat shop
Art in the branches
another totem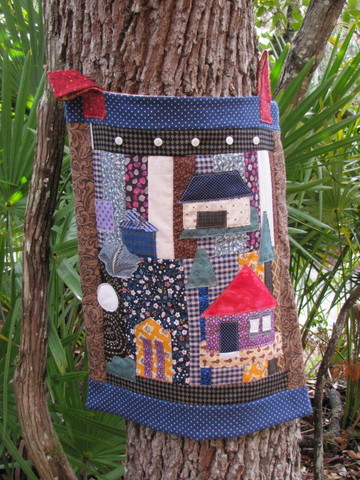 The retreat village?
Oh the threads we used....
Karol's apron of scraps from everyone
McBride's finger paintings (18 of them!)
McBride's wall hanging
Adopted and fostered kids.
Jacque seeks the sunrise every morn
Shibori samples
Shelannia working on that quilt
Magic waiting to happen
When the silk dries, it is unwrapped to be sculptural color feast.
Alison Stillwell printing on common cloth.
​Midge Baudouin
Showing off one of the common cloths the class made with all their stamping and printing